How to do integrated marketing
The key to marketing success is not which techniques you use but how you use them.
Take this infographic for example. It shows very clearly the potentially bewildering array of options for carrying out marketing communications. But jumping on as many of them as you can is not where it's at. All of them can be used by any company. That means you and your competitors. The key is to both use them well individually and also to use them together in an integrated way.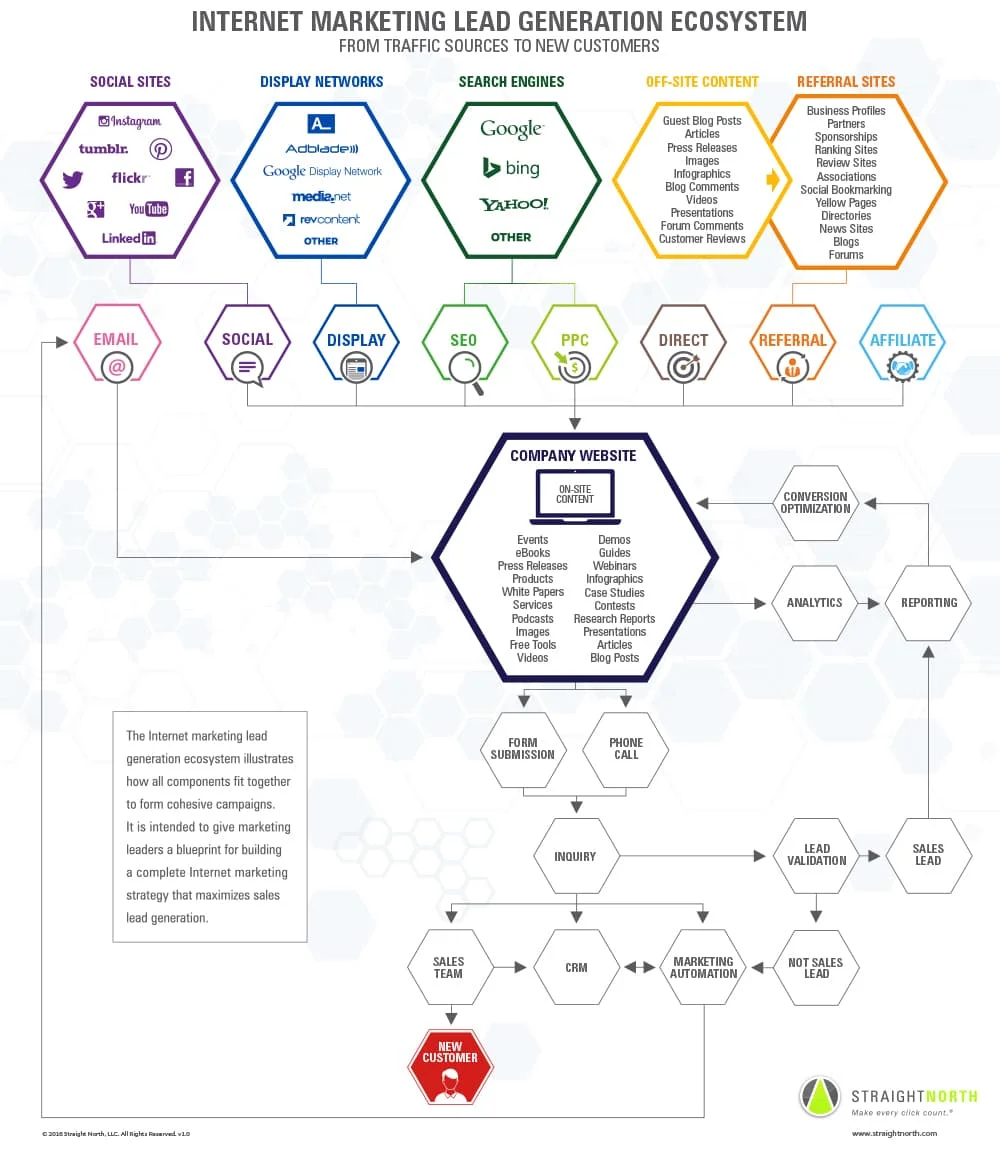 Infographic created by Straight North, an Internet marketing agency


Notice how the company's website is at the centre
Your website is your own piece of company property (real estate) that you own and control. It is what gives your business authority, credibility and a unique voice of its own. You can have a presence on other sites sure. Like strategic partners or social media sites. But your customers' experience on those things is fleeting and is subject to the 'noise' of other participants. To do marketing well, something has to be at the centre. A strong presence that all of the other activity points to. That is what your website is for.


STOP! Check your strategy. Then plan.
The easiest way to waste your money is to do things that are not related to where your business is going. Following the trends is one way in which you could fall into this trap. So what if others are doing this or that online? How would that benefit your business? How will you make it relevant to you and your audience?


The role of the marketing department
The job of the marketing department (or your chosen marketing adviser) is to manage the brand presence and the message and the engagement across all activity. Making it meaningful, useful (to your customers and your business) and consistent (to avoid confusion and distrust).
As it is Marketing's role to drive the experience of such customers and prospects towards useful outcomes, they need to work closely with sales and with anyone else who is externally facing to ensure this.


The role of the sales department
The sales team have a key responsibility to engage and interact with potential and existing customers at key points during their journey from prospect to customer and on to advocate. They can make or break the outcome of such a journey. But because of longer term considerations, they also have the responsibility to do this in a way that is consistent with your brand.


Marketing and Sales interaction
Sales may be the initiator of the relationship. Or marketing might be. And the interaction may switch between the two functions at any time during the process. Why? Because if you are doing it right then the customer is in control.
So, an imaginative way to judge whether or not your approach is integrated is as follows: Does it matter whether the customer / prospect is engaging with sales or marketing? Is their perception of your brand the same? Are they progressing along the same journey?
So, try integrating your marketing. Try to get your different people, functions and departments on the same page. If this is done well I bet it pays off for you.


Share: